MESSAGE FROM THE EXECUTIVE DIRECTOR
Hello everyone and Happy Fall! I hope this message finds you, your family and community in good health and happiness. Here at the Chamiza Foundation, we have been busy with a variety of activities. I am excited to announce is that we have hard copies of our 30-Year Report and Impact Summary available for distribution. If you would like a free copy, please contact me and I will get one to you. The report provides information on the work that the foundation has conducted since the foundation was created in 1989. It also explains how we plan to move forward. You can also access a digital copy of this report on our website at www.chamiza.org.
I have been keeping busy with the various boards and advisory committees that I sit on. One announcement that I want to mention is the Groundworks New Mexico Annual Conference, which will be taking place from November 16th-18th in Albuquerque, NM. The conference will be held at the Embassy Suites. Nonprofit staff, executives, and board members and funder organizations, as well as capacity providers, governmental funders, investment organizations, financial institutions, nonprofit consultants, and businesses should attend this event. Local and national speakers will cover topics such as organizational racial equity, the social and economic contributions of New Mexico's nonprofit sector, how nonprofits can increase funding from national organizations, improving board governance, and trust-based philanthropy. We hope you can attend this event, for more information, please visit https://www.groundworksnm.org/annual-conference. (See flyer below)
Lastly, I would like to mention that I am available to talk if you have a project or program idea that you would like to submit an application for and it is related to our foundation priority areas, please contact me and we can talk about developing your idea!
Sincerely,
Dr. Amanda J. Montoya
Below you will find information from two Pueblo projects that have received funding from the Chamiza Foundation.

FEATURED PROJECTS
The Zuni Youth Enrichment Project Commemorates Groundbreaking Season with 14th Annual Summer Camp
ZUNI, NM (Sept. 7, 2022) — The Zuni Youth Enrichment Project's 14th annual Summer Camp proved to be a groundbreaking one. Made possible with support from the Substance Abuse and Mental Health Services Administration, New Mexico Department of Health's Obesity Nutrition and Physical Activity Program, New Mexico Outdoor Recreation Division's Outdoor Equity Fund, Chamiza Foundation, Zuni Public School District, Zuni Senior Center, and individual donors across the country, the popular program served children ages 6-12 from June 27 to July 28.
This year's Summer Camp was ZYEP's first full camp since 2019, prior to the Covid pandemic. Twenty-one counselors underwent intensive training and preparation so they could serve 120 campers; in addition, the majority of the camp's instructors and leaders were Zuni.
That's not all. According to Tahlia Natachu, ZYEP's executive director, the Summer Camp reached even more Zuni youth this year thanks to an initiative called "Wellness Week." During the last week of camp, the nonprofit youth organization offered a series of four-day mini camps, each dedicated to a particular topic.
"We don't have the capacity to run a long-term day camp for more than 200 kids just yet, but we can coordinate a weeklong camp," Natachu said. "We wanted to provide access to more young people, and this was our way of making sure the children who weren't able to attend Summer Camp got their own camp experience."
During Wellness Week, ZYEP offered: Running Camp, in partnership with Wings of America; Basketball Camp, led by a local teacher and coach; Volleyball Camp, with coaches from Haskell Indian Nations University; Biking Camp, in partnership with Silver Stallion; Football Camp, led by coach and ZYEP board member Joe Claunch; Shiwi Chefs Camp, with our ZYEP Food Sovereignty team; Soccer Camp, with coaches from the University of New Mexico; and Martial Arts Camp, led by a coach from Gallup.
Impact assessments reveal another successful summer season for ZYEP's Summer Camp program. For starters, campers' No. 2 reason for attending the program was to make new friends, and 92 percent reported making new friends.
"This is incredible, given that we are coming out of a time when kids experienced so much isolation due to Covid," said Andrea Pepin, ZYEP's operations manager. "We also noted that the number of campers who said they enjoy making healthy snacks rose 20 percent.
"That's thanks to our Food Sovereignty crew," she continued. "They have figured out a way to make nutrition fun and engaging, and if we can get kids to enjoy making healthy snacks, they will share this excitement with their families and make healthy snacks with family members at home."
Ninety-five percent of parents reported that their children had fun at Summer Camp. One parent reflected on how important it was to see "my son's joy on his face every time we would pick him up from camp (and) hearing about all the things he did and learned."
Learning is indeed part of the fun at ZYEP's Summer Camp. During their weeks at camp, children are able to strengthen their connection to Zuni culture as they learn the language, social dances, and traditional arts and agriculture. They also learn about health and wellness through hiking, sports, indoor and outdoor games, nutrition education, and free time with their counselors, who serve as mentors and positive role models.
Those counselors experienced benefits as well. For example, the number of who reported increased confidence in their leadership skills went up approximately 20 percent during Summer Camp.
"Summer Camp helped me to improve my leadership skills and build upon the leadership skills I already had," one counselor reported. "It also has allowed me to step out of my comfort zone, just like it made the kids step out of their comfort zone."
In addition, ZYEP observed a 25 percent increase in counselors who said they live a healthy lifestyle, and a 17 percent increase in counselors who reported feeling healthier. One counselor said camp "made me want to change my ways, which I am currently doing."
"Summer Camp had a huge impact on me, because it made me want to go into pediatrics," another counselor said. "This camp made me realize how much fun it is to work with kids."
Counselors also recognized the impact the camp had on its young participants. One commented, "It's important to the community, because it gives kids a safe place to have fun during the summer."
Natachu and Pepin noted that next year will be even bigger, as ZYEP's Summer Camp will be celebrating its 15th anniversary in 2023.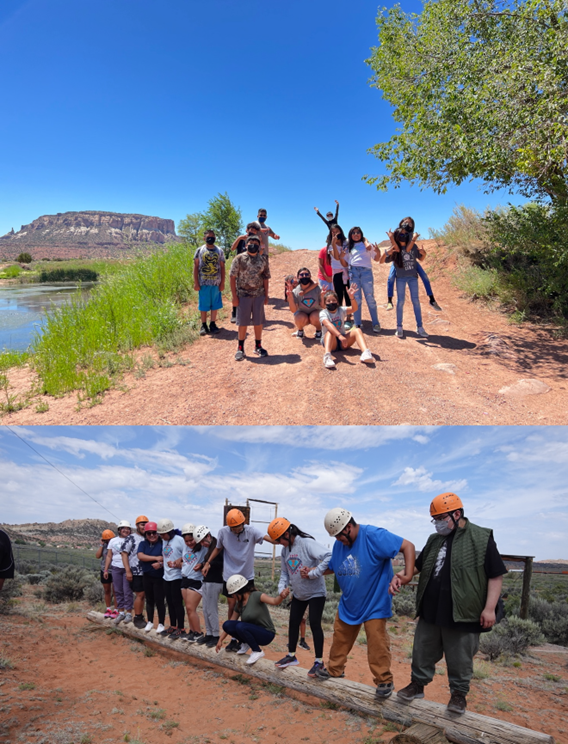 Jemez Pueblo: Walatowa Visitor Center-Community Mural Project
 Earlier this year, the Chamiza Foundation received a proposal from the Walatowa Visitor Center to complete a community mural, host a song and dance demonstration and conduct traditional oven bread making.  All activities were hosted outdoors, given the ongoing Covid restrictions by the Pueblo of Jemez. Given the two-year shutdown of Jemez Pueblo, their goal was to bring community members back out to the Walatowa Visitor Center and to celebrate with a new mural, food, song and dance.
A local Jemez artist, John Fitzgerald Toya, was hired design the mural and lead the installation process.  John is an established artist and was a wonderful ambassador for this project.  He visited with people as he painted, sharing the story and vision of the mural. In addition to John, they also hired one community member assistant and one community youth assistant. The majority of the painting was done by these three artists. Through the process, Jemez youth were able to paint and learn about the history of Walatowa and to learn about the meaning of the mural and its teachings.
The unveiling of the mural was a huge success.  A couple hundred local Jemez members, tribal leadership and the Headstart program all came out for the unveiling.  With prayers, song and dance by Cloud Eagle dance troupe, and food they celebrated the mural and the meaning of the mural.  John Fitzgerald Toya spoke about the mural as a rebirth and a healing from the difficulties of Covid.  It was one of the first public gatherings allowed by the Pueblo and people were genuinely happy for the opportunity.
The mural is the center piece of the Walatowa Vistor Center, located in their plaza.  The mural will serve as the backdrop for ongoing programming that will take place in the plaza.  The plaza has since been used for a wedding and two community gatherings.