Keres Children's Learning Center

The Chamiza Foundation has been a profound supporter of the Keres Children's Learning Center (KCLC). They have partnered with us for almost 7 years now and have supported us unconditionally in our efforts to establish and open KCLC. With the gentle support, leadership, and encouragement of the Chamiza Foundation, the KCLC founders and Board of Directors along with the Pueblo de Cochiti have been afforded an incredible opportunity to imagine and see a more holistic approach to education for the sake of our children, our future, and our language. Thank you Chamiza Foundation!
-Trisha L. Moquino, Keres Children's Learning Center
Co-Founder, Executive Director/Teacher
Tewa Women United
It is with heartfelt admiration and acknowledgment that Tewa Women United proudly proclaims 25 years of the Chamiza Foundation's blazing courage to bring function and life to envisioned traditions. Chamiza truly allows transformative ways to breathe energy back into kindred communities! Chamiza Foundation must be congratulated for its zealous commitment to the Pueblo peoples' many lifeways and expressions in programs and projects. Our tribal innate connection to Mother Earth's kindred spirit of communal healthy relations is acknowledged by Chamiza's continuing dedication to supporting programs and projects coming from Pueblo people and communities.
Many blessings for success into the future years just as creative energy of thought is reciprocal in nature. Ku'uda. Thank you.
-Kathy Wanpovi Sanchez
Tewa Women United
Poeh Cultural Center
The preservation of heritage can be limited by the ability to share it. The Pueblo of Pojoaque, the Poeh Cultural Center, the Pueblo Youth Programs, the Pueblo of Pojoaque Hoop Dancers and other programs have been most fortunate to be the recipient of support from the Chamiza Foundation. The foundation has repeatedly supported solutions, which greatly help to ensure the preservation of and the sharing of unique native arts. Through financial assistance and other opportunities, the Chamiza Foundation assists native artists and communities in the "doing, being and sharing" and the exhibition of their art while maintaining the integrity of Pueblo Indian concepts and worldview. We are most grateful.
-Phillip Karshis, Director
Poeh Cultural Center, Pojoaque Pueblo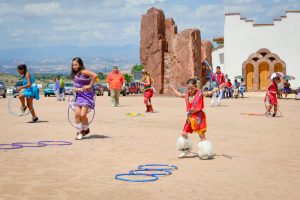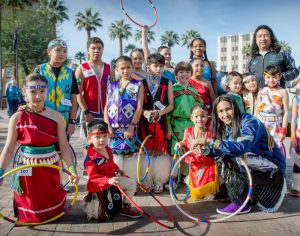 Tewa Language Program
On behalf of the Pueblo of Ohkay Owingeh, I want to thank the Chamiza Foundation for the years of support. Ohkay Owingeh has benefited tremendously from the continued funding by Chamiza Foundation. What makes this support even more valuable is that it is that the funding is guided by an incredible team of Pueblo professionals who serve on the Chamiza Foundation board. I also appreciate the support of the Phillips family.
In the seven years of the Tewa Language Program, there have been over 150 community members who have become empowered by learning the language. As a result, many of our students use Tewa language in various community activities. Tribal leadership has also become a strong supporter. Thank you and many blessing to you all.
Respectfully,
Joseph Patrick Aguino
Tewa Language Teacher, Ohkay Owingeh Pueblo
Ohkay Owingeh Boys & Girls Club / Intergenerational Cultural Program / Language Program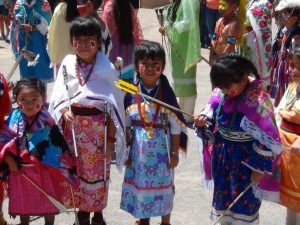 On behalf of the tribal members from Ohkay Owingeh and the following programs, Boys & Girls Club's Intergenerational Cultural Program and our language program, I would like to take this opportunity to thank all involved with the Chamiza Foundation for making it possible to enhance our tribal culture and traditions. Over the years, the foundation has given us an opportunity to provide the following cultural activities: dance regalia workshops which include, traditional rattle making, headdress making, waist and leg bells, armbands, turtle and skunk skins making, wag and manta making.
These workshops were responsible for providing over 300 tribal members (youth, adults, and elders) with an opportunity to learn how to make traditional dance regalia that we use in our traditional dances. The workshops that we provided are still reaping the rewards as a youth, adults, and elders continue to pass the knowledge forward. It would not have been possible without the assistance of the Chamiza Foundation.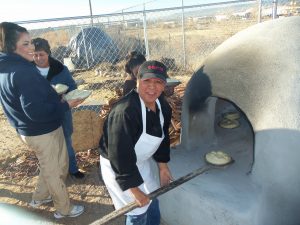 The Horno's we built is being used by the community free of charge, and we still are providing workshops on traditional bread making to our women, daughters and any tribal member wishing to learn. Once again thank you to the Chamiza Foundation for providing the funds to address these important cultural needs of our community. We look forward to continuing to work with you in the future.
Johnny Abeyta Sr.
Social Services Divisional Director
Ohkay Owingeh Pueblo
Ohkay Owingeh Housing Authority
Ohkay Owingeh, "Place of the Strong People," is one of 19 federally-recognized Pueblo tribes in New Mexico. It has embarked on one of its most significant and complicated projects, the Owe'neh Bupingeh Preservation Plan and Rehabilitation project. The primary purpose of the Owe'neh Bupingeh Rehabilitation Project is to rehabilitate all the homes in the Pueblo 's historic core village area and redevelop the traditional adobe homes that have fallen into disrepair. The mission of the project is to strengthen the culture, language, values, and traditions of Ohkay Owingeh as the families move back to live permanently in the historic village.
Mud plastering adobe homes is a traditional practice that we implemented by training the families and community about mud plastering techniques and the importance of maintenance which was once done by our ancestors. The Ohkay Owingeh Housing Authority is committed to doing this training twice a year with the families and community. These training activities have been funded by the Chamiza Foundation to assure that families learn the process and that the mud plastering and maintenance of adobe homes becomes a yearly practice carried out by the community.
The Ohkay Owingeh Tribal Council, the community, and Ohkay Owingeh Housing Authority are extremely thankful to the Chamiza Foundation for its support of the project at every step of the way. It has been a journey of true conviction which Chamiza and every partner had to have to make this a success for the community of Ohkay Owingeh Pueblo, and for that we can never give enough gratitude.
Tomasita Duran, Director
Ohkay Owingeh Pueblo Housing Authority 
Pueblo of Nambe
For nearly 20 years, the Chamiza Foundation has been an instrumental partner with Pueblo tribes in the revitalization of cultural aspects that have suffered from years of institutionalized oppression and inter-generational trauma. With their gracious assistance, the Pueblo of Nambé Community Farm has focused on renewing agricultural lands and re-inspiring respect and relationship with the Earth. The Tewa language at Nambé is blossoming as our summer camps and garden meetings have been promoting its use and practice. There are many more ways that Chamiza has been an enthusiastic supporter of the culture and people of Nambé including, a youth-led panté building project and restoration of the historic main Kiva and Clown House. We look forward to more partnerships in the future and we are forever grateful.
Nichole Carnevale
Tribal Administrator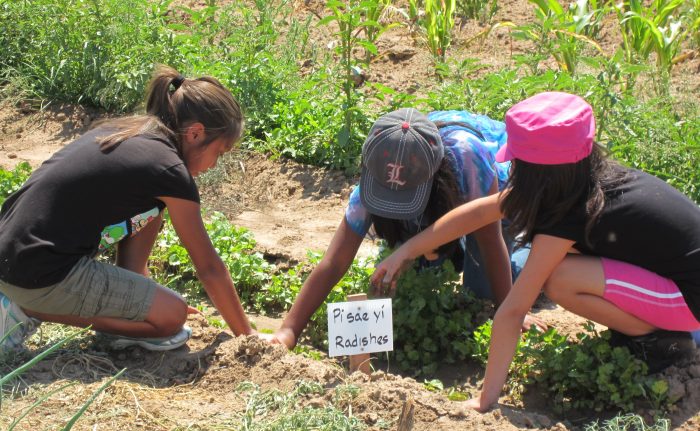 Leadership Institute
Chamiza, unlike any other Foundation, has created an unprecedented deep and genuine partnership with Pueblo people. At the heart of this unique relationship is a trust and confidence exemplified by acknowledging that Pueblo people know what is best for them. It is so fundamental, yet so rare in philanthropic circles. Chamiza had the wisdom, the vision and the courage to dare to entrust into the hands of Pueblo people, the power of the Foundation's decision making authority. The work is epitomized not so much by the amount of money it distributes, but how the decisions provide support, encouragement, affirmation, and validation of the ideas driven by essential Pueblo core values. It is a process that celebrates a return to core values as a significant part of our responses to the challenges we face. In that process, is embedded a natural movement toward sustainability that is often elusive in far too many approaches because it creates ownership and responsibility. We congratulate Chamiza and the Board for such strong leadership and a profound sense of vision that is leading the way to incredibly profound outcomes across the full spectrum. We are blessed and grateful for such a rare gift.
Regis Pecos, Co-Director
Leadership Institute at the Santa Fe Indian School, Chamiza Grantee
Tribal Leader, Cochiti Pueblo
Pueblo grantees are engaged as equal partners in the work of the foundation and play a major role in grant making decisions. By focusing on relationship and outreach, the Foundation board and staff continue to provide grant resources and assistance in a manner that strengthens capacity and empowers people to act, "to do the work themselves" according to their core values for the benefit of their communities.
Relationships and trust have deepened and evolved over 30 years which has allowed the Foundation to more keenly understand the "real" issues in Pueblo communities.  As a result, grantees point to improved relationships and inter-connectedness within their communities as well as better bridges with the outside community.
June 2023 Grantees
Pueblo of Santa Ana- Santa Ana Youth Hands-on Hydrology Outreach (SAY H2O) Summer Program: "Learning the Pathway of the Tamayame"
Pueblo of Zuni-Zuni Youth Enrichment Project Summer Camp
Across the Americas-Across the Americas: A youth-led cultural exchange for Indigenous (re)connections
Trees Water People-Rebuilding Pueblo Food Sovereignty Through Rangeland Workshops
March 2023 Grantees
Pueblo of Cochiti-Keres Children's Learning Center- Native American Language Symposium 
Pueblo of Santa Ana- Santa Ana's Youth Hands-on Hydrology Outreach (SAYH2O): Water is Life: Learning the traditional knowledge and benefits from Water and Traditional Crop Growing
Pueblo of Santa Clara-Kha Po Intergenerational Exchange: Bridging the teachings of the past and present to sustain our future 
Pueblo of Santo Domingo (Kewa)-Rebuilding Connections to Pueblo Architecture: Workshops and Trainings on Earth Architecture
Pueblo of Tesuque- Indigenous Knowledge Collective: Traditional Tesuque Textiles, An Embroidery Class
Pueblo of Zia-T'siya Mother Corn Project
Pueblo of Zia-Indigenous Knowledge Collective: Zia Buckskin Tanning Class
Pueblo's of San Ildefonso and Santo Domingo- RiverSource: Connecting Youth with Traditional Knowledge and Ecological Science at Santo Domingo and San Ildefonso Pueblo
June 2022 Grantees
Pueblo of Acoma-Tribal Historic Preservation Office: Images of Home Project
Pueblo of Pojoaque: Tapia Community House Project
Pueblo of Taos- Seed Saving at Red Willow Center
Pueblo of Tesuque-Traditional Tesuque Textiles, An Embroidery Class
Pueblo of Zia-T'siya Language Program Traditional Preservation Program
Pueblo of Jemez-Jemez Pueblo Community Greenhouse
Trees Water People-Revitalizing Kewa Pueblo Agroforestry Zones
March 2022 Grantees
Pueblo of Acoma-Ancestral Lands Conservation Corps
Pueblo of Cochiti-Keres Children's Learning Center-Health and Wellness Program
Pueblo of Picuris-Picuris Pueblo Tiwa Language Program
Pueblo of San Felipe-Pueblo of San Felipe Agriculture Program
Pueblo of San Ildefonso-Generational Empowerment Cultural Program
Pueblo of Santa Clara-Honor Our Pueblo Existence-Tewa Language Project
Pueblo of Zuni-Zuni Youth Enrichment Project
Ysleta Del Sur Pueblo-Phase 2 Children's Tiwa Language Book
RiverSource-Connecting Youth with Traditional Knowledge and Ecological Science at Kewa Pueblo and San Ildefonso Schools
June 2021 Grantees
Traditional Programs/Projects 
Pueblo of Laguna- Ba'k'athrode-"How do you like your oven to cook?" Project
Pueblo of Sandia- Story Time with Elders Program
Pueblo of Santa Clara- Flowering Tree Youth Project
Pueblo of Santo Domingo- Tribal Historic Preservation Office
Pueblo of Santo Domingo- Trees Water People Project
Pueblo of Taos- Oo-oo-Nah Art Center
Pueblo of Zuni- Zuni Youth Enrichment Project
All Pueblo Council of Governors- Primary Documents in Pueblo History and Governance Project
Ancestral Lands Conservation Corps – Ancestral Lands Farm Corps
SFIS Leadership Institute- Brave Girls Program
The Getty Conservation Institute-TERRA 2022:Sustaining and Supporting Indigenous Stewardship of Earthen Architectural Heritage World Congress Scholarships
COVID-19 Emergency Recovery Support
Pueblo of Acoma, Emergency Recovery
March 2021 Grantees
Traditional Programs/Projects 
Pueblo of Cochiti, KCLC: Keres Language Health and Wellness
Pueblo of Isleta, Isleta Historical Society
Pueblo of Santo Domingo Pueblo, Santo Domingo Traditional Village Architecture & Home Preservation
Pueblo Resurgents, Community Farming Cooperative
RiverSource, Connecting Youth with Traditional Knowledge and Ecological Science at Kewa Pueblo, Cochiti, and San Ildefonso Schools
COVID-19 Emergency Relief Support
Pueblo of Jemez, Emergency Relief
Pueblo of Laguna, Pueblo of Laguna Utility Authority: Internet
Pueblo of San Felipe, Agriculture Program
Pueblo of Santa Clara, Regional Adult Day Care Center
Pueblo of Santo Domingo, Emergency Mitigation
Pueblo of Taos, Emergency Management Team
Pueblo of Zia, Emergency Operations Team
Indian Pueblo Cultural Center, Pueblo Relief Fund
Emergency Relief Funding July 2020
While the Chamiza Foundation's mission is to ensure the continuity and living preservation of Pueblo Indian culture and traditions and our grants for thirty-one years have always aligned closely to that mission, this is an unprecedented situation in our communities. Caring for our Pueblo communities, of upmost importance to us, dictated exceptional action on our part at this time. Therefore, on July 2, 2020, the Chamiza Foundation Board voted unanimously to send a second round of Emergency Relief Funding unrelated to our usual grant process to Pueblos to assist Pueblo artists and farmers/farms. This is a comprehensive list of the entities that received support. 
Acoma
Farming: Acoma Farm Corps Program
Artist: Acoma Pueblo-Artist Relief Program
Cochiti
Artists: Cochiti Pueblo Governor's Office
Isleta
Artists: Isleta Pueblo Governor's Office
Jemez
Farming: Flower Hill Institute
Artists: Jemez Welcome Center
Laguna
Artists: Laguna Community Foundation
Nambe
Farming: Nambe Pueblo Community Farm
Ohkay Owingeh
Artists: Ohkay Owingeh Governor's Office
Artists: Native Arts Gallery
Picuris
Farming: Healthy Heart Garden-Special Diabetes Program
Artists: Picuris Pueblo Governor's Office
Pojoaque
Artists: Poeh Center
San Felipe
Farming: San Felipe Pueblo Agriculture Program
Artists: San Felipe Governor's Office
San Ildefonso
Artists: San Ildefonso Pueblo Governor's Office
Santa Ana
Farming: Santa Ana Pueblo Governor's Office
Artists: Santa Ana Pueblo Governor's Office
Santa Clara
Farming: Flowering Tree Permaculture Institute
Artists: Flowering Tree Permaculture Institute
Santo Domingo
Farming: Kewa Family Wellness Center Garden
Artists: Santo Domingo Pueblo Governor's Office
Taos
Farming: Red Willow Farm
Artists: Taos Pueblo Tourism Program
Tesuque
Farming: Tesuque Pueblo Community Farm
Zia
Farming: Zia Pueblo Agricultural Program
Zuni
Farming: Community Based Approach to Farming Collaborative-A:shiwi Museum & Heritage Center
Artists: Ancestral Rich Treasures of Zuni- ARTZ
Emergency Relief Funding April 2020
On April 14th, 2020, the Chamiza Foundation Board voted unanimously to send $50,000 in Emergency Relief Funding unrelated to our usual grant process to all twenty Pueblos to assist with any issues they are encountering due to COVID-19. 
Acoma
Cochiti
Isleta
Jemez
Laguna
Nambe
Ohkay Owingeh
Picuris
Pojoaque
Sandia
San Felipe
San Ildefonso
Santa Ana
Santa Clara
Santo Domingo
Taos
Tesuque
Ysleta del Sur Pueblo
Zia
Zuni
March 2020 Grantees
Pueblo of Nambe,  Community Farm Program: Fruits of Health Preservation
Pueblo of Santa Ana, SAY H20 Program: The roles and responsibilities of the Pueblo's Department of Natural Resources programs and personnel have in protecting and managing the Pueblo's land, wildlife and water resources
Pueblo of Santo Domingo Pueblo, Kewa Childcare & Development: Traditional Farming and Agriculture Experiences for Kewa Children
Pueblo of Zuni, Zuni Youth Enrichment Program: Summer Enrichment Camp
Pueblo of Zuni, A:shiwi College & Career Readiness Center: Zuni Language & Culture Revitalization
June 2019 Grantees
Pueblo of Acoma, The Haak'u Museum Mural Project
Pueblo of Cochiti: Education Department, Bridging the Cultural Gap
Pueblo of Cochiti: Keres Children's Learning Center, A Holistic Approach to Health and Wellness
Pueblo of Santa Clara: Honor Our Pueblo Existence Project, Buwah Tewha
Pueblo of Santa Clara: Regional Adult Day Care, Kha P'o Intergenerational Exchange- Bridging the teaching of the past and present to sustain our future
Pueblo of Taos, Tiwa Language Program
Pueblo of Zuni, Zuni Cultural Development and Arts Entrepreneurship Capacity Building Initiative
Ysleta Del Sur Pueblo, Tigua Pottery Project
March 2019 Grantees
Pueblo of Jemez Welcome Center, Sharing our Wisdom "Planting the Seeds of Knowledge"
Pueblo of Laguna, Mesita Computer Lab Genealogy & Family Tree Making
Pueblo of Nambe, Community Farm/Language Preservation, "Fruit of Health Preservation" Program, Year Two
Pueblo of Nambe, Healthy Family Services/Expression through Art
Ohkay Owingeh, Community Bread Baking
Pueblo of Pojoaque, Living Culture-Speaking Tewa
Pueblo of San Ildefonso, Sustainable Agriculture: traditional food ways and cooking practices; understanding of plants and their medicinal uses
Pueblo of Santa Ana, Santa Ana Youth Hands-on Hydrology Outreach (SAY H2O): "Water is Life"
Pueblo of Taos, Oo-Oo-Nah Art & Cultural Center: Tiwa Language, Culture, History, & Art
River Source, Connecting Youth with Traditional Knowledge and Ecological Science at Kewa Pueblo and Cochiti School
September 2018 Grantees
Acoma Pueblo – Haak'u Museum, One Coil at a Time: Revitalizing Traditional Acoma Pottery Making
Jemez Pueblo-Flower Hill Institute, American Samoa Intercultural Exchange Program
Jemez Pueblo-Pueblo Resurgents (Center of Southwest Culture), Pueblo Resurgents: Land Based Leadership Summer Youth Program
Ohkay Owingeh-Native Arts Gallery, Restoration of Traditional Arts & Crafts
Ohkay Owingeh-Board of Education, Ohkay Owingeh Tewa Language Program
Picuris Pueblo, Picuris Pueblo Tiwa Language Program
Pojoaque Pueblo, Pueblo of Pojoaque Ancestral Village Rehabilitation Planning Project
Sandia Pueblo, Sandia Pueblo Sewing and Quilting Program
Santa Ana Pueblo -Language & Culture Program, Pueblo of Santa Ana Keres Women Language and Culture Revitalization Enrichment Project
Santa Fe Indian School: Kewa-Cochiti Keres/Tewa Language Classes, Support for Language Learning with Hands-on Activities and Symposium attendance
Santo Domingo Pueblo -Kewa Keres Language Program, Recapturing Our Origins
Taos Pueblo-Oo-Oo-Nah Art & Cultural Center, The Heritage Project: Tiwa Language, Culture, History, & Art
Zia Pueblo – Zia Language Program, Composition of songs using the Zia Keresan Language, which is interpreted through Traditional Zia Dances, and Cultural Regalia
Zuni Pueblo- Zuni Language Revitalization Program, Zuni Language& Cultural Revitalization
March 2018 Grantees
Flower Hill Institute, Run to Chaco & General Support
Keres Children's Learning Center, Building Community through an Intergenerational Model of Keres Language Fluency
Nambe Pueblo, Fruits of Health Preservation
Ohkay Owingeh Housing Authority, Owe'neh Bupingeh Plaza Restoration Mud Plastering Project
Ohkay Owingeh Native Arts Gallery, Traditional Art Classes
River Source, Connecting Youth with Traditional Knowledge & Ecological Science ¾  Cochiti & Kewa Pueblos
Pueblo of San Felipe Health & Wellness (KICKS) Program, Traditional Native Plant & Animal Identification Project
Pueblo De San Ildefonso, Sustainable Agriculture: Traditional Food Ways and Cooking Practices; Understanding of Plants and Their Medicinal Uses
Santa Ana Pueblo Natural Resources Dept., Santa Ana Youth Hands-on Hydrology Outreach (SAY H20): Water is Life 'Discovering our Ancestral Lands thru Water'
Santa Clara Pueblo Reg'l Adult Day Care, Kha Po Intergenerational Exchange: Bridging the teachings of the past and present to sustain our future
Ancestral Lands-Zuni, Encouraging Youth Leadership & Environmental Stewardship through outdoor experiences on Zuni Pueblo