MESSAGE FROM THE EXECUTIVE DIRECTOR
I pray that this message finds you, your family, and community in the best light possible in this critical and unprecedented time.  As we move forward in this peculiar time, we are being forced to really grasp the unfortunate reality of many of our tribal communities. The under investments in our tribal communities have been brought to the forefront due to the pandemic. We must now take advantage of this moment in time to understand the root causes of many of these detrimental issues in our indigenous communities and work towards creating solutions to remedy the origin of the problem and not so much of the symptoms of the issues they are experiencing.  Now is the time to leverage this opportunity that has been presented to us to better the livelihood of our Indigenous communities by ensuring that our communities receive the support that they deserve. I feel that in my position as Executive Director for the Chamiza Foundation, I have the capability to do just that in one way or another. Hence, I have been participating in several communication platforms where I have been able to communicate the needs of our Pueblo communities to individuals in the philanthropic arena. My hopes are that through these efforts, Pueblos will receive an increase in philanthropic support.
Furthermore, over the past month I have been gathering information on two specific populations in our Pueblo communities: farmers and artists. Reports that have been coming to my attention are that Pueblo artists and farmers have been struggling significantly during this time due to the "Public Health Order" that is currently in place and the Pueblo closures that are presently active. As you may know these orders restrict them from selling their art and produce at events and markets. Additionally, as artists are encouraged to make sales through an online platform, many of the older artists are incapable of using this avenue due to lack of internet access, shortage of computer, camera or phone equipment, and/or the absence of the skills needed to create webpages or the knowledge to conduct online sales. After I have gathered all essential information from the Pueblos, I will then present this information to our board for further discussion and consideration on how the Chamiza Foundation can best help our Pueblo communities.
On April 14th, 2020, the Chamiza Foundation Board voted unanimously to send $50,000 in Emergency Relief Funding unrelated to our usual grant process to all twenty Pueblos to assist with any issues they are encountering due to COVID-19. While we cannot directly address service and supply needs in the Pueblo's, we wanted to provide immediate monetary assistance that we hoped they could use towards their critical needs at that time. In consideration of a second round of funding to the Pueblos, I have been contacting Pueblo Governors to check in with them to discuss their particular situations and needs in their Pueblos as this will also help our board make strategic decisions on how to support our Pueblos. I will be meeting with the Chamiza Foundation board in early June to discuss next steps for the second round of Emergency Relief Funding to our Pueblo communities.
In closing, I encourage you to stay strong and keep a positive mental attitude and keep working towards goals that you have set for your self and your community. I urge you to proceed with caution as our state begins to reopen. Please make sure to wear your protective masks when you visit public spaces and wash your hands frequently.
Wishing good health, happiness and safety to everyone,
Amanda J. Montoya
Executive Director
Chamiza Foundation

Below you will find a project update from one of the various Pueblo projects that received funding from the Chamiza Foundation. You will also find information on COVID-19 Relief Funds you can donate to.
Kewa Child Care and Development: Traditional Farming and Agricultural Experiences for Kewa Children
by Tiffany Calabaza
The Kewa Child Care and Development program was awarded a small grant from the Chamiza Foundation in March 2020. The project goal was to expose children to cultural life experiences that may not otherwise be taught in a contemporary classroom setting. The best early childhood learning experiences take place outside. A total of Sixteen families participated and have agreed to engage with and teach our children in our Native Keres Language. Special thanks to the Chamiza Foundation for supporting our families with garden project kits that included: seed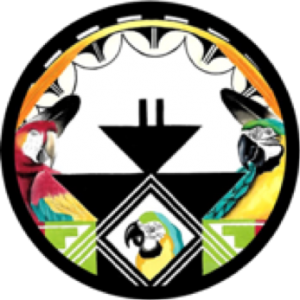 starter trays, various seeds, potting soil, watering cans, gardening gloves and other tools.
At an unfamiliar time like this, we are grateful to be able to engage in an activity that can be done safely at home. In order to commemorate these experiences, the program also included scrapbooks and Polaroid instant film cameras for adults to work with and put together. Some parents are excited to begin a new hobby, whether its gardening or scrapbooking for the first time. To the Chamiza Foundation, thank you!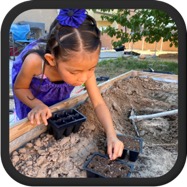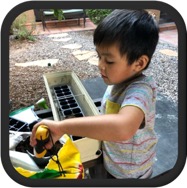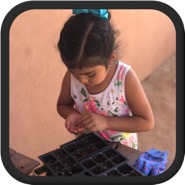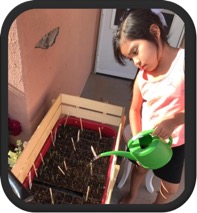 If you would like to donate to help New Mexico Tribal Communities, please consider donating to these funds:
PUEBLO RELIEF FUNDS
In an effort to meet the most critical needs of the 20 Pueblo Nations during the COVID-19 crisis, the All Pueblo Council of Governors (APCG) and the Indian Pueblo Cultural Center (IPCC), have created and are administering a Pueblo Relief Fund.
The donations to the Pueblo Relief Fund will be used to immediately begin addressing supply and service needs of the Pueblos in order to help slow the spread of the COVID-19 virus and lower the infection rate among tribal members. These needs include essential disinfecting supplies, personal protective equipment, and food distribution. APCG and IPCC will use the funds to immediately begin purchasing these essential items and delivering them to the Pueblos for distribution to tribal members.
The Indian Pueblo Cultural Center is a U.S. tax-exempt 501(c)(3) organization (tax ID 85-0232968). Your donation will be 100% tax deductible. Please be sure to consult your tax advisor regarding the federal tax treatment of this transaction.
To donate please visit: https://pueblorelieffund.org/pueblo-relief-fund


The New Mexico Foundation (NMF) launched the Native American Relief Fund (NARF) on April 20, 2020 to respond to the COVID-19 pandemic threat on New Mexico Tribes, Nations and Pueblos and Native Americans who live off-reservation.  While the fundraising is ongoing, the NMF recognizes the urgency to begin distributing the funds as financial needs continue to rise in Tribes, Nations, Pueblos and Urban Native communities. To balance the distribution of funding with ongoing fundraising efforts, the NMF will release funds through multiple funding rounds.
Recent News from Native American Relief Fund:
Native American Relief Fund Provides $575,000 to Pueblos, Tribes and Nations in New Mexico for COVID-19 Response
Santa Fe, NM – May 28, 2020 – The Native American Relief Fund distributed $575,000 on Friday, May 22, 2020 to support COVID-19 response and relief efforts in tribal communities in New Mexico. These funds were distributed equally among the twenty-three Pueblos, Tribes and Nations located wholly or partially in the state. Each Pueblo, Tribe or Nation can use these resources as it determines to prevent, mitigate or respond to threats from the COVID-19 pandemic including: food, medical supplies and personal items; water; community and individual relief and recovery needs; internet access and connectivity and other needs and expenses directly related to the COVID-19 pandemic. Tribal governments can also count these funds toward the non-federal match requirements needed to secure Public Assistance from the Federal Emergency Management Agency (FEMA).
"It is a tragedy that Native Americans comprise over 58% of COVID-19 cases in New Mexico," said President & CEO JoAnn Melchor. "We are grateful to all the foundations, organizations, businesses and individuals who are contributing to the Native American Relief Fund – your generosity is making a significant difference for tribal communities and families in this time of great challenge and suffering."
The New Mexico Foundation launched the Native American Relief Fund on April 20, 2020 to prevent, mitigate or respond to impacts from the COVID-19 pandemic on New Mexico Tribes, Nations and Pueblos and Native Americans who live off-reservation. While the fundraising toward the original $3 million goal is ongoing, the New Mexico Foundation recognized the urgency to begin distributing the funds as financial needs continue to rise in tribal communities.
"We are extremely grateful for all the support that has made its way to Cochiti. We are thankful that our community does not have any cases of COVID-19 and realize the incredible sacrifices everyone is doing to safeguard our people and our way of life," said Cochiti Pueblo Governor Charles D. Naranjo, "Lieutenant Governor Pecos and I can't express how much we appreciation we have for all of those involved who are supporting the Native American Relief Fund."
"On behalf of the Navajo Nation Donation Branch, I would like to express my sincere gratitude for the grant award from the Native American Relief Fund of the New Mexico Foundation. This was a very generous donation. Thank you for your support of the Navajo Nation COVID-19 relief effort and for your solidarity with the Navajo People during this crisis." Mel M. Rodis, Principal Attorney, Navajo Nation Department of Justice 
The next distribution of funds from the Native American Relief Fund will be done through an open application process. Any federally-recognized tribe wholly or partly located in New Mexico as well as non-profit organizations that provide the majority of their services to Native Americans residing on the lands of one or more of these tribes or residing off-reservation in New Mexico will be eligible to apply for these funds.
Eligibility to apply to the Native American Relief Fund include one of the following:
Federally-recognized Tribe
501c3 Nonprofit Organization (in good standing)
Native-led Organization with fiscal sponsorship
 To donate please visit: https://nmcf.org/programs/native/