MESSAGE FROM THE EXECUTIVE DIRECTOR
Greetings everyone, I hope this message finds you all in good health and happiness. Here at the Chamiza Foundation we are steadily moving along in the new year. We had our first board meeting for the year on March 12, 2021. I am happy to announce that we awarded $44,127.61 towards "Traditional" projects and programs. This includes projects and programs that focus on the following areas: Language preservation and revitalization, Traditional architecture and building, Sustainable agriculture, Traditional arts and crafts instruction (intergenerational programs), Tribal and ancestral history; oral histories and storytelling, Youth education and leadership and Intercultural Exchange and Education. Additionally, we awarded $94,000 in COVID-19 Emergency Relief Support to various Pueblos. Please check out the "Impact" page on our website to see who was awarded for the first round of 2021.
Our next application deadline is May 7, 2021. We will be accepting applications for our "Traditional" priority areas and for COVID-19 Emergency Recovery Funds (below you will find the details for this funding). The online application portal will begin accepting applications starting April 7, 2021. If you have any questions about how to submit your application, please do not hesitate to reach out to me. You can apply directly online through our website. Please be aware that when you start the process you cannot stop and save your application, you must start and finish in one sitting. So please have all your documents that you will need to complete the application on hand. You can also still download the application from our website as well. If you have a project or program idea that you need help developing please feel free to contact me. I look forward to seeing many more great applications for our next round of funding.
As the Executive Director for the Chamiza Foundation, one of the perks of the job is being able to visit our Pueblo communities, to sit in on programs and observe project activities. Since the pandemic started, I have not been able to visit any of our Pueblos. I look forward to the day when I can come and visit all of our Chamiza Foundation grant recipients. At this point, it looks like things are getting better, slowly but surely with the introduction of the vaccines. However, please don't let your guard down now. Please continue to wear your masks (two if possible), wash your hands frequently and continue to practice social distancing. These safety precautions are being encouraged to keep you and your loved ones safe. Wishing everyone a great spring. I encourage all of you to be strong, take care of yourselves (physically, emotionally and spiritually). Be well and stay safe.
Sincerely,
Dr. Amanda J. Montoya

CHAMIZA FOUNDATION COVID-19 EMERGENCY RECOVERY FUND
Through the Chamiza Foundation COVID-19 Emergency Recovery Fund, the foundation is supporting New Mexico Pueblo's as they respond to and recover from COVID-19. This includes support for long-term strategies to overcome the impacts of the pandemic. The following areas are identified as critical issues to be addressed by the Chamiza Foundation COVID-19 Emergency Recovery Fund:
Pandemic Response and Defense: Support for Pueblos to access and distribute supplies needed for COVID-19 testing and vaccines.
Mental Health: Support for services and solutions for cultural and physical/mental wellbeing and education of Pueblo members.
Work/Learn from Home: This is for equipment (e.g., laptops, headsets, internet, communications, technology) that allows members of Pueblo communities to work, learn, and access services safely and remotely.
Financial Bridge for Pueblo Artists: Support to help Pueblo Artists stay resilient throughout the economic crisis. Pueblo community shutdowns have severely impacted Pueblo members. The shutdowns have prevented artists  from leaving their communities to earn income from self-employed activities and to purchase art material.
Restoration through Agriculture:  The Chamiza Foundation has a long-standing commitment to Pueblo agriculture; therefore, we want to provide support to Pueblo Farms and Agricultural Program's resiliency and recovery. We are deeply aware that strengthening Pueblo agriculture systems is essential for long term food security.
The Chamiza Foundation will be accepting applications for the COVID-19 Emergency Recovery Fund starting on April 7, 2021. The deadline for applications is May 7, 2021. Applications can be found on our website on the "Apply" page. Please contact our Executive Director if you have questions. She can be reached at executivedirector@chamiza.org or 505-216-2140.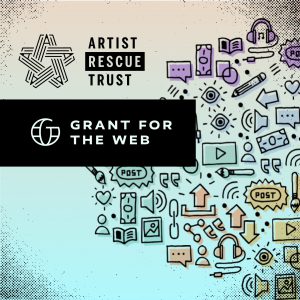 ARTIST RESCUE TRUST
Artist Rescue Trust (A.R.T.) exists is to provide relief funding to musicians and artists whose ability to perform, tour and earn a living has been negatively affected by COVID-19. A.R.T. will provide $1,500 over three months to 100 artists in need and amplify the stories, performances and creations they had hoped to share with the world before the pandemic limited their ability to do so. We invite eligible artists and musicians who are facing financial complications from cancelled events and bookings to fill out the application form to be considered. Qualifying applicants who meet the eligibility requirements will be entered into a pool. A new fund recipient will be randomly selected from the qualified pool each time $1,500 is donated to A.R.T. We are continuing to accept applications, so if you feel you would be eligible, please apply!
The basic requirements for our grants are:
Be 18+
Be a U.S. citizen or permanent resident in the United States, District of Columbia, or U.S. Territories (e.g. citizen, green card holder, and/or permanent resident who can provide a W9 and SSN or ITIN).
Be a professional, actively practicing musician or artist whose primary source of income is made through live performances, tours, gallery openings, book tours/readings, or other bookings/events and not working on a regular salary basis for one employer.
Demonstrate a commitment to current and ongoing activity in their artistic discipline/s.
Show a demonstrated need for emergency relief to recover the immediate loss of income through cancellations and bookings due to COVID19.
Not be enrolled in unemployment benefits.
Not a full-time employee, board member, director, officer, or immediate family member of any of the coalition partners;
Not previously awarded a relief grant from this fund.
For more information, please visit: https://artistrescue.org
To apply for support please visit: https://artistrescue.org/get-help/
If you have any questions, please contact:
Audrey Ullman, Community Outreach Manager, Artist Rescue Trust, audrey@artistrescue.org