MESSAGE FROM THE EXECUTIVE DIRECTOR
Greetings everyone, I hope this message finds you all doing wonderful as we enter the spring season. The spring rains have brought me joy. I pray all of you are finding joy in your lives in one way or another. The month of April has been quiet here at the Chamiza Foundation, as I am still unable to conduct Pueblo site visits. Fingers crossed that I get to visit some of our project sites by this summer.
As mentioned in the March newsletter, our second deadline is fast approaching. This will be our final round of funding for 2021. Our next application deadline is May 7, 2021. We will be accepting applications for our "Traditional" priority areas ( Language preservation and revitalization, Traditional architecture and building, Sustainable agriculture, Traditional arts and crafts instruction (intergenerational programs), Tribal and ancestral history; oral histories and storytelling, Youth education and leadership and Intercultural Exchange and Education) and for COVID-19 Emergency Recovery Funds (below you will find the details for this funding). The online application portal is now accepting applications: https://www.chamiza.org/application/.  Please be aware that when you start the process you cannot stop and save your application, you must start and finish in one sitting. So please have all your documents that you will need to complete the application on hand. You can also still download the application from our website as well. If you have any questions about how to submit your application, please do not hesitate to reach out to me.
Wishing everyone a great spring! I encourage all of you to be strong, take care of yourselves (physically, emotionally and spiritually). Be well and stay safe.
Sincerely,
Dr. Amanda J. Montoya

CHAMIZA FOUNDATION COVID-19 EMERGENCY RECOVERY FUND
Through the Chamiza Foundation COVID-19 Emergency Recovery Fund, the foundation is supporting New Mexico Pueblo's as they respond to and recover from COVID-19. This includes support for long-term strategies to overcome the impacts of the pandemic. The following areas are identified as critical issues to be addressed by the Chamiza Foundation COVID-19 Emergency Recovery Fund:
Pandemic Response and Defense: Support for Pueblos to access and distribute supplies needed for COVID-19 testing and vaccines.
Mental Health: Support for services and solutions for cultural and physical/mental wellbeing and education of Pueblo members.
Work/Learn from Home: This is for equipment (e.g., laptops, headsets, internet, communications, technology) that allows members of Pueblo communities to work, learn, and access services safely and remotely.
Financial Bridge for Pueblo Artists: Support to help Pueblo Artists stay resilient throughout the economic crisis. Pueblo community shutdowns have severely impacted Pueblo member's from leaving their communities to earn income from self-employed activities, which included leaving the Pueblo to sell their traditional arts and crafts. Their livelihood is dependent on their ability to create and share their work.
Restoration through Agriculture:  The Chamiza Foundation has a long-standing commitment to Pueblo agriculture; therefore, we want to provide support to Pueblo Farms and Agricultural Program's resiliency and recovery. We are deeply aware that strengthening Pueblo agriculture systems is essential for long term food security.


Join in on the Fun! 
Support ZYEP's Summer Camp Fund
The Chamiza Foundation is excited to share an exciting campaign of one of our community partners in this month's newsletter. Starting on May 15th the Zuni Youth Enrichment Project (ZYEP) will launch its ZYEP Summer Camp Fund Campaign to support their 2021 camp and to sustain future camp programming. ZYEP staff and counselors worked diligently over the past few months to offer 60 youth campers an in-person experience this summer.
At ZYEP Summer Camp youth are nurtured by caring counselors and mentors that find meaningful ways to teach Zuni language, art, social dances, traditional gardening and more about what makes them special. These activities are offered alongside a conventional camp curriculum that includes science, nutrition, sports, games and self-care. These activities deepen campers' connection to Zuni traditions on a multitude of levels.
ZYEP Summer Camp goes beyond just serving young campers  — it provides the opportunity for Zuni teens and young adults to be summer camp counselors and role models. ZYEP's leadership program helps counselors develop communication, leadership and mentoring skills, set academic and career goals, gain valuable work experience, all while giving back to their community. Some of our counselors and staff participated in Summer Camp themselves and have returned back to give back to the next generation of Zuni youth. Former camp counselor and current ZYEP Youth Development Coordinator Tahlia Natachu (Zuni) reflects on the impact camp counselors have in the Zuni Community:
"I think what I cherish the most is seeing my campers today in the Zuni community. They are pursuing their dreams, being healthy, and even becoming summer camp counselors! I am so proud of who they've become and what they are striving for because when they were so young, I recognized their greatness and their potential to be the next leaders of our community."
Please join ZYEP on social media this summer and learn more about this important work.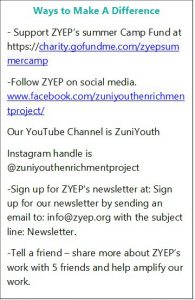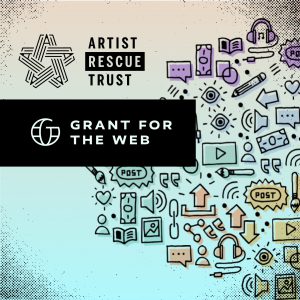 ARTIST RESCUE TRUST
Grant application will close on May 14, 2021
Artist Rescue Trust (A.R.T.) exists is to provide relief funding to musicians and artists whose ability to perform, tour and earn a living has been negatively affected by COVID-19. A.R.T. will provide $1,500 over three months to 100 artists in need and amplify the stories, performances and creations they had hoped to share with the world before the pandemic limited their ability to do so. We invite eligible artists and musicians who are facing financial complications from cancelled events and bookings to fill out the application form to be considered. Qualifying applicants who meet the eligibility requirements will be entered into a pool. A new fund recipient will be randomly selected from the qualified pool each time $1,500 is donated to A.R.T. We are continuing to accept applications, so if you feel you would be eligible, please apply!
The basic requirements for our grants are:
Be 18+
Be a U.S. citizen or permanent resident in the United States, District of Columbia, or U.S. Territories (e.g. citizen, green card holder, and/or permanent resident who can provide a W9 and SSN or ITIN).
Be a professional, actively practicing musician or artist whose primary source of income is made through live performances, tours, gallery openings, book tours/readings, or other bookings/events and not working on a regular salary basis for one employer.
Demonstrate a commitment to current and ongoing activity in their artistic discipline/s.
Show a demonstrated need for emergency relief to recover the immediate loss of income through cancellations and bookings due to COVID19.
Not be enrolled in unemployment benefits.
Not a full-time employee, board member, director, officer, or immediate family member of any of the coalition partners;
Not previously awarded a relief grant from this fund.
For more information, please visit: https://artistrescue.org
To apply for support please visit: https://artistrescue.org/get-help/
If you have any questions, please contact:
Audrey Ullman, Community Outreach Manager, Artist Rescue Trust, audrey@artistrescue.org