MESSAGE FROM THE EXECUTIVE DIRECTOR
Greetings everyone! I hope that this message finds you, your family and community doing well, during this holiday season. As this year ends, we have a lot to reflect on. To be honest, it still amazes me that we are living as we are, having to wear masks everywhere we go, asking ourselves if it is safe to hug someone, getting frequently tested for this ever-changing virus, attending zoom meetings instead of in person meetings, and having to adjust our way of life due to inflation rates caused by the pandemic. Even though we are still living with restrictions, it makes us appreciate the simple and little things in life. The pandemic has reminded us to live in the moment, to cherish the people we love and appreciate our Indigenous ways of life.
Throughout this year, I have continued to serve on the Native American Relief Fund Advisory Committee. This advisory committee has worked hard to provide support to all 23 tribes in New Mexico. To date the Native American Relief Fund has raised $2,020,116.00 of the $3 million goal. Ninety-two grants have been made for a total of $1,774,304. We are currently fundraising to provide a fourth round of support to our New Mexico Tribal Communities in early 2022. If you would like to learn more about the Native American Relief Fund or if you would like to donate, please visit: https://www.newmexicofoundation.org/native-american-relief-fund/.
Also, this year, I was asked to be part of the Native American Recovery Fund Zone Grant advisory group. This funding opportunity seeks to support twelve Native-led recovery projects in the following areas: Family Economic Security, Health Systems, Local Food Systems, Opportunity Youth, and Water Resilience. Each focus area will be driven by a "Strategy Table". Each table consists of at least 2 grassroots community leaders, representatives from funders interested in the programmatic area, and Tribal representatives. I am part of the Local Food Systems Strategy Table and the Water Resilience Strategy Table. I am thankful to the McCune Foundation and the New Mexico Foundation for starting this initiative to help our NM tribal communities. If you would like to learn more about the Native American Recovery Fund Zone Grant or if you would like to donate, please visit: https://www.newmexicofoundation.org/native-american-recovery-fund-zone-grant/
The other initiative that I have committed time to is called the New Mexico Broadband Collective (NMBC). The NMBC was established in March 2021. The NMBC is committed to ensuring access to the internet in "hard to connect communities" in the state. The NMBC is managed by a steering committee and includes representation from foundations, nonprofits, government, and private providers. The goal is to support a statewide approach to ensuring broadband services for all New Mexicans, especially in our rural communities, Native communities, and other "hard-to-connect" communities most impacted by the lack of broadband connectivity. There are four workgroups that have been developed: Coordination group, Regional Projects/Advocacy group, Grantmaking group, and Digital Literacy & Inclusion group. I am part of the steering committee and the regional projects/advocacy group. I joined this group to ensure that tribal communities were included in the list of regional projects. I am hopeful that this work continues to move forward in 2022 and we can help get broadband into rural communities.If you would like to learn more about the New Mexico Broadband Collective or if you would like to donate, please visit: https://www.newmexicofoundation.org/new-mexico-broadband-collective-fund/
Additionally, this year, I chose to continue meeting with the New Mexico Agriculture Group which is led by the Thornburg Foundation. This group has allowed me to learn more about the New Mexico food system. It has been extremely enlightening, and I look forward to our continued work and collaborations in 2022. And lastly, a good portion of my time was dedicated to my duties as a board member for Groundworks New Mexico (GWNM). GWNM has come a long way over the past year. The incredible staff at GWNM is working hard to bring the New Mexico social sector together. Next year, I will be serving as a GWNM Officer. I anticipate great things to happen for GWNM in 2022, stay tuned! For more information on GWNM, please visit: https://www.groundworksnm.org
This year, the Chamiza Foundation provided support for 25 projects. The total amount distributed into our Pueblo communities for 2021 was $ 246,827.61. We provided support for projects that focused on language, agriculture, Pueblo history, traditional architecture, youth development, storytelling, land stewardship and Emergency COVID-19 Relief and Recovery Support.
As a reminder, we will be accepting applications for Chamiza Foundation support in 2022. Our first deadline will be on Friday, February 11, 2022, for traditional applications. Traditional applications focus on our traditional priority areas such as language preservation, traditional architecture, sustainable agriculture, traditional arts & crafts, tribal & ancestral history, oral histories & storytelling, youth education & leadership, intercultural/intergenerational exchange, and education.
Eligibility-The Chamiza Foundation invites proposals from the following:
New Mexico's 19 Pueblo Indian tribal communities
Ysleta del Sur Pueblo located in El Paso, Texas, member of the All Pueblo Council of Governors and the 20th Pueblo
Pueblo community leaders
Non-Pueblo organizations that serve Pueblo communities. These entities must submit a letter of support from the Governor of the Pueblo as evidence that the community has requested their involvement
There are three ways that you can apply 1) You can complete your application online through our website 2) You can email your application to apply@chamiza.org or 3) You can send your completed application directly to me at executivedirector@chamiza.org. Please remember that I am available if you want to talk about a project idea/concept. I can also review your application before the deadline to ensure that you have included all required information. Please let me know if you have any questions about applying to the Chamiza Foundation. Wishing everyone a safe and happy new year!
Sincerely,
Dr. Amanda J. Montoya

Trees, Water & People  
In the summer of 2021, the Chamiza Foundation provided funding to "Trees, Water & People". Since 2019, Trees, Water & People (TWP) has engaged with Santo Domingo Pueblo Natural Resources Department (SDPNR) in collective restorative projects to heal the traditional homelands of Santo Domingo Pueblo. TWP, in collaboration with the SDPNR, lead a cultural-based reforestation project in the fall of 2021.Together, TWP and SDPNR restored 10 acres of SantoDomingo homelands near Cerrito Yelo Peak, planting 4,500 culturally important trees. Twenty-five community members joined in on this activity. With the support of the Warchief and SDNR staff, the project focused heavily on the importanceof  cultural-based stewardship and preservation of the Keres language. During each day of planting activities, elders joined and provided traditional oral wisdom and storytelling to participating adults and youth.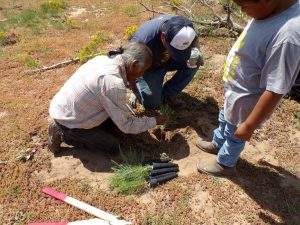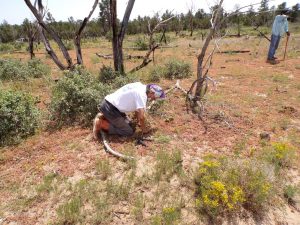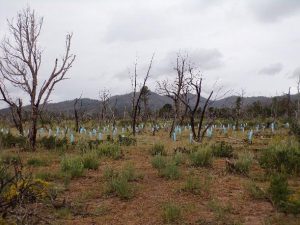 Photos courtesy of Trees, Water & People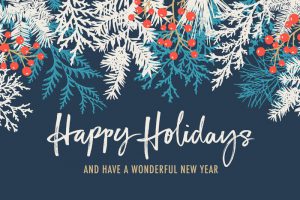 Wishing you Happy Holidays!
May the New Year bring you happiness, good health and success!
From
Chamiza Foundation Board and Staff