MESSAGE FROM THE EXECUTIVE DIRECTOR
Greetings everyone, I hope that everyone's year is off to a great start! Here at the Chamiza Foundation, we would like to congratulate all of the newly appointed and reappointed Pueblo leadership. We wish you a productive, safe, and blessed year.
Here at the Chamiza Foundation we are eagerly awaiting applications from all of our Pueblo communities. We are pleased to be able to offer support for our traditional priority areas.As a reminder, we are currently accepting applications for Round 1 of Chamiza Foundation support. Our first deadline will be on Friday, February 11, 2022. We will be accepting applications that focus on our traditional priority areas such as: language preservation, traditional architecture, sustainable agriculture, traditional arts & crafts, tribal & ancestral history, oral histories & storytelling, youth education & leadership, intercultural/intergenerational exchange and education.
Eligibility-The Chamiza Foundation invites proposals from the following:
New Mexico's 19 Pueblo Indian tribal communities
Ysleta del Sur Pueblo, El Paso, Texas, member of the All Pueblo Council of Governors and the 20th Pueblo
Pueblo community leadership
Non-Pueblo organizations that serve Pueblo communities. These entities must submit a letter of support from the Governor of the Pueblo as evidence that the community has requested their involvement
TIME SENSITIVE: Deadline February 11, 2022
There are three ways that you can apply 1) You can complete your application online through our website (Please make sure to read "Notice to proceed") 2) You can email your application to apply@chamiza.org or 3) You can send your completed application directly to me at executivedirector@chamiza.org. Please let me know if you have any questions.
Below you will information on two projects that we provided funding for in 2021. We are overjoyed to share their work and look forward to witnessing their continued success. We hope these projects inspire you. Additionally, you will find information about the New Mexico Broadband Collective Fundraising Campaign. I am part of the steering committee for the NM Broadband Collective. We are hoping to raise funding to help get broadband into "hard-to-connect" communities. Also, you will find a scholarship announcement from the LANL Foundation. Please encourage native students to apply for this fantastic opportunity. And lastly, you will find a list of Chamiza Foundation donors for 2021. We are extremely grateful for all the support that we received in 2021. These donations help us to achieve our mission of supporting the living preservation of Pueblo Indian culture and traditions. Wishing you all the best, please take care and be safe everyone!
Warm regards,
Dr. Amanda J. Montoya

Ancestral Lands Conservation Corps: Acoma Pueblo  
 In the Summer of 2021, the Chamiza Foundation provided funding to the Ancestral Lands Conservation Corps in Acoma Pueblo to support their Ancestral Lands Acoma Farm Corps. The goal of this project was to support the ongoing pandemic response in Acoma Pueblo and to work with the Pueblo to revive the Pueblo's traditional food system, to increase the amount of healthy, locally grown produce, to center indigenous knowledge and caretaking traditions, and to reconnect youth to traditional values. To reach these goals, the program hired five young adult members to train them on food system restoration and seed saving. The crew planted a .75 acre plot and learned the entirety of the agricultural production process. The crew harvested and cleaned 38 lbs. of Hopi Yellow Beans, 19 lbs. of Mammoth Sunflowers, 48 lbs. of Acoma Blue Corn, and 1,169 lbs. of two heirloom Acoma Winter Squash. Seventy-five Acoma Winter Squash were distributed free of charge to the community. All crew members successfully completed the program, and they are planning on bringing most of these members back to serve in a higher leadership capacity for the 2022 program. The Chamiza Foundation was happy to learn about the success of this program and to know that these young farmers were able to produce so much for their community.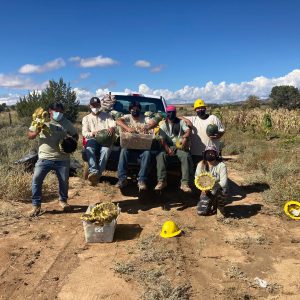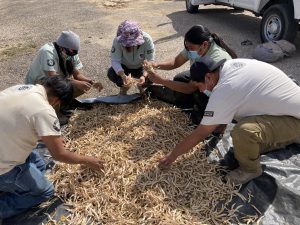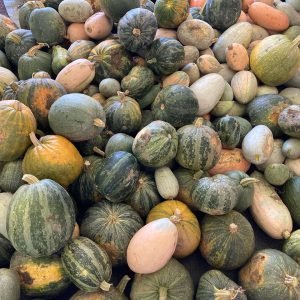 Santa Fe Indian School: Brave Girls
In the summer of 2021, the Chamiza Foundation provided funding to the Brave Girls program. Brave Girls is an out-of-school time leadership and empowerment program for Pueblo Indian girls, grades 7-12, at the Santa Fe Indian School. The Brave Girls program simulates Pueblo family and community settings as a way of offering support for young participants who are living outside of communities and away from family as they attend school. The goal of Brave Girls is to educate, help young women empower themselves, and work on positive life experiences as they are developing their identities and learning how to set and accomplish goals. This project is only halfway completed, and they have accomplished so much. In the first half of this project, they focused more on traditional knowledge sharing & learning as part of the traditional Pueblo calendar, orientation to Brave Girls, belonging, sisterhood, and team building. In the second half of the program, they will be focusing more on team building, goal setting, life skills, public speaking skills, and networking with more guests to help the girls continue working on empowering themselves, self-confidence, and other out of school time lessons. We are absolutely delighted to hear of the progress that this program has made.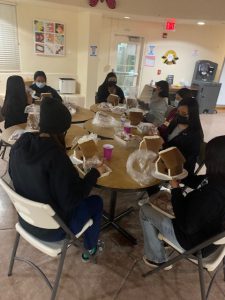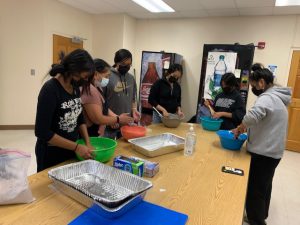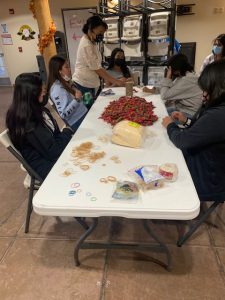 LANL Foundation: Career Pathways Scholarship-Deadline April 18, 2022
The Career Pathways Scholarship is now accepting applications. This scholarship supports high school seniors and those with a high school diploma or GED/High School Equivalency (HSE) in pursuit of a 2-year degree, trade, or certificate. You must be a permanent resident (366 consecutive days+) of Northern New Mexico in Los Alamos, Mora, Rio Arriba, San Miguel, Sandoval, Santa Fe, or Taos County by the time of application. Please visit: https://www.lanlfoundation.org/our-work/scholarships/career-pathways-scholarship for more information.


New Mexico Broadband Collective Launches Fundraising Campaign
To Provide Broadband to More New Mexicans  
January 24, 2022 (Santa Fe, NM) The New Mexico Broadband Collective has launched a fundraising campaign to assist communities across New Mexico that are having the most difficulty with accessing broadband. Approximately 196,000 homes and businesses don't have broadband now which prevents them from accessing jobs, healthcare and other opportunities. This is often because their communities lack both the funding and technical assistance they need to develop solutions that will work best for them and to enable them to compete for the unprecedented federal and state broadband funding becoming available. The Collective is aiming to raise a total of $600,000 to help these "hard-to-connect" communities bridge these gaps so they can then access federal and state funding for their projects: $500,000 for the Broadband Equity Fund managed by the New Mexico Foundation and $100,000 for the Technical Assistance and Grantwriting Fund managed by Groundworks New Mexico.
"Broadband technology is essential for creating more diverse and dynamic rural areas across the state, including attracting digital nomads, or people looking to increase quality of life," shared Alvin Warren, the Collective's Co-Chair and vice president of Career Pathways and Advocacy for the LANL Foundation. "COVID-19 has ushered in new norms for remote learning and work. Ensuring all New Mexicans have broadband access represents an opportunity to retain local talent so that people can participate in the culture of their communities while strengthening local economies."
Established in March, 2021, the New Mexico Broadband Collective was formed to support a statewide approach to ensuring broadband services for all New Mexicans, especially in rural communities, Native communities, and other hard-to-connect communities most impacted by the lack of broadband connectivity. With backbone support from Groundworks New Mexico, the Collective is managed by a steering committee and includes representation from foundations, nonprofits, government, and private providers.
"Small, rural villages in New Mexico do not have the administrative, financial, or technical capacity to lead large-scale broadband infrastructure projects, however critical they might be," explained Carey Beam, a resident of the Village of Cuba and a member of the Broadband Collective's Community and Regional Projects workgroup. "Support from the Broadband Collective Fundraising Campaign is crucial to helping these small civic bodies access the technical expertise and funding necessary to close the connectivity gaps necessary for community and economic development."
The Collective hopes that foundations, individual donors, financial institutions, business associations and corporate partners will step forward at this pivotal time to support this campaign, both because they see an opportunity to help people in small rural and other hard-to-connect communities thrive and know that universal broadband access is central to long-term economic prosperity for New Mexico. To learn more about the New Mexico Broadband Collective and contribute to the fundraising campaign, visit: https://www.lanlfoundation.org/nm-broadband-collective 

2021 Chamiza Foundation Donors
THANK YOU!
Nelson Branco
Claudia Horn
Antonia Scholz
AOS Architects-Shawn Evans
Christine Redmond
Kimberly Castelin
Erin McBride
Don L Roberts
Chloe DavisMasters
Susan H Castelin
Mark Levin
Lynn E. Walter
Judy Scher
Amity Calvin
Aldis Philipbar
Eric Woods
Katheryn Ronshausen
Alicia Tenorio
Mekayla Schock
Seja Rachael
Elizabeth Wolfert
Joan Malone
David Scheffer