MESSAGE FROM THE EXECUTIVE DIRECTOR
Greetings everyone, I hope this message finds you all in good health and happiness. Here at the Chamiza Foundation we are steadily moving along in the new year. We had our first board meeting for the year on March 10, 2023. I am happy to announce that we awarded $90,118.00 towards "Traditional" projects and programs. This includes projects and programs that focus on the following areas: Language preservation and revitalization, Intergenerational exchange programs, Youth education and leadership (Agriculture focused), Traditional Architecture and Arts & Crafts. Please check out the "Impact" page on our website to see who was awarded for the first round of 2023.
Our next application deadline is May 12, 2023. We will be accepting applications for our "Traditional" priority areas which include language preservation, traditional architecture, sustainable agriculture, traditional arts & crafts, tribal & ancestral history, oral histories & storytelling, youth education & leadership, intercultural/intergenerational exchange and education. The online application portal will begin accepting applications starting April 7, 2023. If you have any questions about how to submit your application, please do not hesitate to reach out to me. You can apply directly online through our website. Please be aware that when you start the process you cannot stop and save your application, you must start and finish in one sitting. So please have all your documents that you will need to complete the application on hand. You can also still download the application from our website as well. If you have a project or program idea that you need help developing, please feel free to contact me. I look forward to seeing many more great applications for our next round of funding.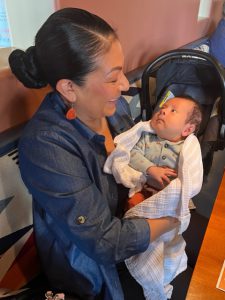 On a personal note, I would like to announce the birth of my baby boy. He was born on January 25, 2023. His name is Kai. My partner and I feel extremely blessed to have him in our lives! Wishing you all a happy April 😊Take care and be safe everyone!
Warm regards,
Dr. Amanda J. Montoya

Chamiza Foundation Board-Resignation of Hayes Lewis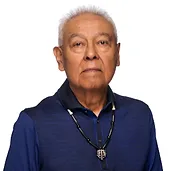 After 17 years, Hayes has decided to step down from the Chamiza Foundation Board. Hayes is an enrolled member of the Zuni Tribe. He is the founding Director of the Center for Lifelong Education, Research and Cultural Exchange at the Institute of American Indian Arts. Currently Hayes serves as the Executive Director for the A:Shiwi College and Career Readiness Center in his home community of Zuni Pueblo. He is active in his tribal community, participates with his traditional kiva society and has served the Zuni people in several high-level positions as Tribal Administrator, Special Assistant to the Tribal Council, and Director of Planning & Development. He is a Zuni High graduate, a Vietnam Veteran, graduated from Fort Lewis College, earned a master's degree in Administration, Planning and Social Policy from Harvard University and a Certificate of Advanced Specialty in Educational Leadership and Administration from the University of New Mexico.
Hayes joined the board in March of 2005. His deep concern for all Pueblo people helped inspire Chamiza to make decisions that proved to be beneficial and productive in all our grant making decisions. The Phillips Family and the entire Chamiza Foundation board would like to send Hayes a heartfelt thanks for his leadership, service, and commitment to our board. You'll be missed!

The Chamiza Foundation Welcomes Two New Board Members
 With the resignation of three of our long-time board members we knew that it would be no easy task to replace them. Thankfully, two wonderful Pueblo people were recommended to us. Please help us welcome Mr. Aaron M. Sims and Ms. Alissa Chavez Lowe to our board. To read their full bio's please visit our website and click on the "What we do" tab.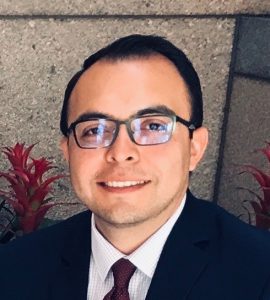 Aaron M. Sims (Pueblo of Acoma), owner-attorney, for Chestnut Law Offices. Mr. Sims obtained his Juris Doctor from the University of New Mexico – School of Law with an Indian Law Certificate. Mr. Sims holds a bachelor's degree in Government and Native American Studies from Dartmouth College. He is a member of the State Bar of New Mexico and the Federal District Court.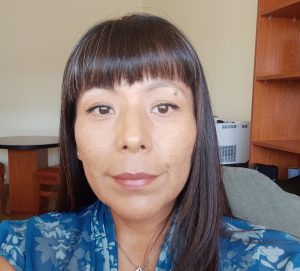 Alissa Chavez Lowe (Pueblo of San Felipe) joined the administration at the Santa Fe Indian School (SFIS) as their Director of Admissions in July, 2022. She began her work at the SFIS the prior year charged with cultivating STEM enrichment programming for their middle and high school students that resulted in the inaugural Exploring STEAM Summer Program. The opportunity to become part of the elite team at SFIS was a goal she aspired to and she is delighted to now be driving efforts to promote the vision and mission of the SFIS by bolstering outreach to member communities, partners and, families both connected and striving to be part of the historical leader in Native American education.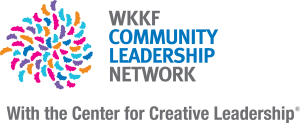 WKKF Community Leadership Network | Connect. Grow. Lead.
The W.K. Kellogg Foundation Community Leadership Network with the Center for Creative Leadership is currently recruiting local leaders for class three!
Deadline April 10, 2023
The W.K. Kellogg Foundation (WKKF) Community Leadership Network is an innovative 18-month fellowship program for local leaders to connect, grow and lead transformational change toward a more equitable society. The Center for Creative Leadership®, with support of the Kellogg Foundation, is offering the program with opportunities to:
Connect – Build a powerful multicultural, multi sector collaborative within your community to effect enduring change, as well as become part of a Global Fellows Network of 1,100+ that facilitates ongoing connection, collaborative learning and collective action.
Grow – Understand your leadership identity and emerge with greater self-awareness; gain skills for engaging varied voices and uniting people around solutions; and learn essential ways to advance racial equity, racial healing and leadership in communities.
Lead – Get fully equipped to lead transformational change; put new knowledge and skills into action through community networking experiences; and build self-care practices that generate compassion for yourself and others.
To champion equity for children, families and communities, we need compassionate and capable leaders rooted in their communities. Applications will be accepted March 7 – April 10, 2023. Learn more at www.wkkfcln.org.